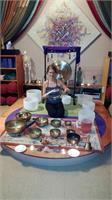 Sound Healing
with Kristen Rubis
Saturday, March 29, 2014 | 7-9p | Cost: $20
Join us for a special event. Settled in with very gentle yoga poses to prepare you for a deeply nourishing evening of breath work, meditation, and sacred sound healing. Kristen performs healing sound through Tibetan and crystal quartz singling bowls and soothing percussion instruments.
If you attended this popular workshop/concert, please consider adding a comment below about your experience. Thanks!