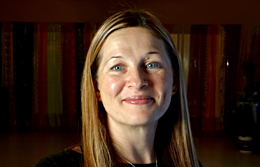 Tawnya's first experience with yoga was prenatal yoga in 2000, but what really drew her into a lifelong practice was the teachings of Eckhart Tolle. With his teachings of being here now in the present moment, everything in yoga class seemed to support this philosophy, this truth that resonated in her. She naturally progressed to teacher training to support and enhance her own education and received her 200-RYT in February of 2013. She has since been teaching yoga and other body/mind oriented wellness classes. With a strong focus on mindfulness, Tawnya has a passion for anatomy, kinesiology, and finding balance between effort and effortlessness in our bodies as well as in our minds.
In addition to yoga, meditation, and mindfulness, Tawnya enjoys spending time in the outdoors; hiking, SUP yoga, gardening, and anything active with her family!
"Accept – then act. Whatever the present moment contains, accept it as if you had chosen it. Always work with it, not against it." – Eckhart Tolle
. . . .