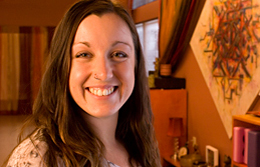 Meg has been practicing yoga for 10 years, she loved the glowing feeling she felt after each class and the calming effects she noticed rippling into other areas of her life. In 2011, she sustained a serious foot injury from a car accident. Yoga became a powerful tool in her path to healing. She discovered in herself a passion for sharing the healing powers of yoga with others. In 2012 she enrolled in a 200 hour Iyengar focused teacher training in Seattle. Then in 2014 she traveled to Indonesia to study Tantric Yoga and Meditation and attain her 500 hour Teacher Training Certification.
Her classes focus on paying attention to ones body and honoring it's subtle messages to grant each practitioner a safe and personalized practice. Through heat building sequences, deep mindful breathing, and as long moments of stillness; one can create the space to connect with the truth and light within themselves.
When she isn't practicing or teaching yoga; Meg loves working with children, spending time outside, singing and dancing, and hanging out with her fiancé Brian and their two cats Lady and Tramp.
. . . .