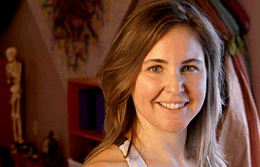 Elizabeth took her first yoga class in 1997 and felt an immediate connection to the practice. She has been a dedicated yoga practitioner for over seven years. She continues to discover the balance, wisdom and peace that results through the efforts of her practice. Elizabeth is committed to helping others experience these same transformative qualities in their lives. Her classes focus on building strength and flexibility in the physical body, but also in deepening the students' awareness of the healing qualities found within the breath.
Elizabeth became certified to teach yoga through YogaFit in 2011. She also completed YogaFit's level 3 training on the mind-body connection. She continued her training through the 8 Limbs Yoga Teacher Training Program in Seattle. She is a 2012 graduate of their 200-hour certification as a Registered Yoga Teacher (RYT) through Yoga Alliance. She is also enrolled in 8 Limb's Prenatal/Postnatal Teaching Training program to obtain her certification as a Registered Prenatal Yoga Teacher (RPYT).
More recently, Elizabeth has embarked on a four-year journey to obtain her certification as an IAYT certified yoga therapist. She received an additional 700 hours of training in the therapeutic lineage of Viniyoga with Robin Rothenberg through Essential Yoga Therapy's (EYT) Advanced Teacher Training Program. This program draws deeply from the authentic lineage of yoga, while also incorporating a contemporary understanding of mind-body medicine, the result of years of study in western science. She received her 500 RYT from Essential Yoga Therapy in 2015. She is currently enrolled in EYT's two-year yoga therapist program, consisting of an additional 800 hours of yoga therapy training. She will receive her IAYT yoga therapist certification in October of 2016.